Elevate Your Career With CDL Mentors. Get A Free ELDT with CDL B Enrollment!
If you are 18 to 65 years old, regardless of gender, a Louisiana resident, and have a valid driver's license, this is for you!
Enroll in  CDL B Today!

Get a Free ELDT B for CDL B Enrollment (value $399).
ZOpen to 18-65 years old
ZMale or Female
ZLouisiana Residents
ZHave a Valid Driver's License
Acquire EXCEPTIONAL TRAINING with an impressive nearly 100% passing rate for permit and pre-trip inspections.
Receive GUIDANCE & SUPPORT in filling out FUNDING APPLICATIONS to successfully secure a Federal Government CDL Training Grant approval or similar. 
Earn from $47K to $80K per year as a commercial truck driver! Unlock competitive pay and career growth in this field. Don't miss this exciting opportunity! Start your trucking career journey today
Fast-track your journey to success with CDL Mentors! Apply now to qualify and set your course toward a brighter future on the road!
Please fill out the form below with your information to get started:
ELDT Online Theory Training Courses
Courses Starting from FREE! FMCSA Approved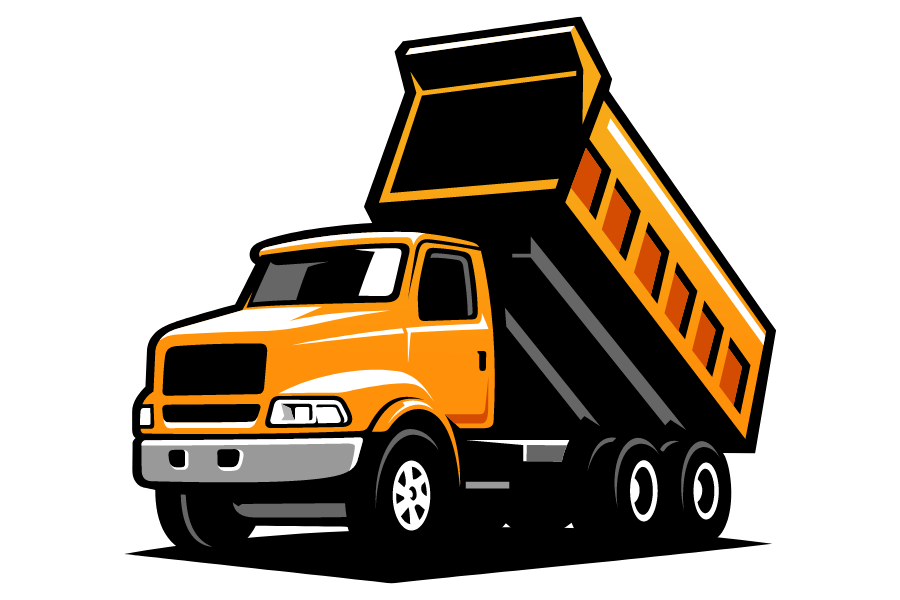 EDLT CLASS B for FREE!
The ELDT Class B Theory Course is a federally-compliant program for those seeking a Class B CDL. Meeting both Federal and State requirements, the course focuses on operating heavy straight (Group B) vehicles. Topics include vehicle inspection, compliance, hazard recognition, and emergency procedures, preparing trainees for a safe and efficient commercial driving career.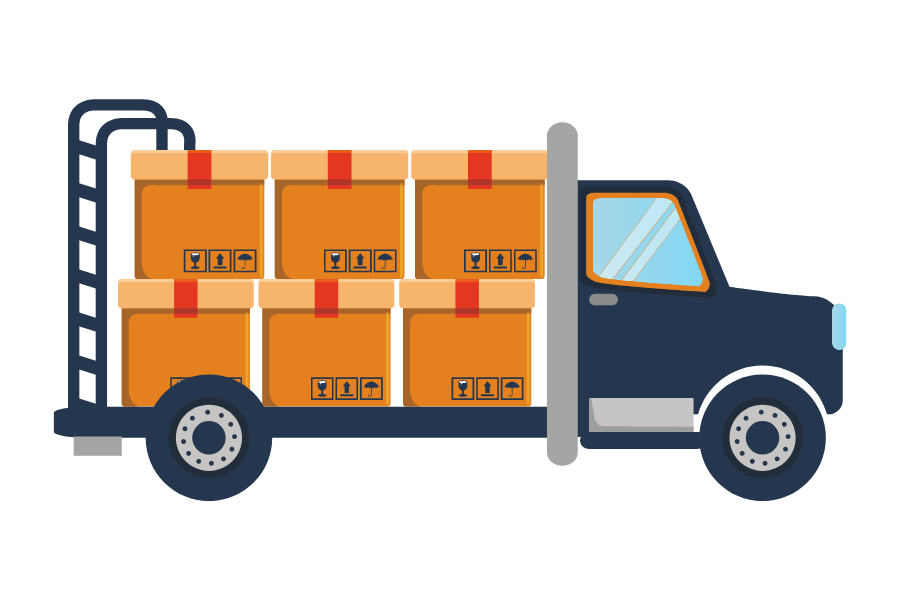 EDLT CLASS A for $25
The ELDT Class A Theory Course is a federally-compliant program for those seeking a Class A CDL. This course provides the baseline federal educational criteria that must be met by those aspiring to obtain a Class A commercial driver's license (CDL). Meeting both Federal and State requirements, the course focuses on combination vehicles, as detailed in section 383.91(a)(1) of the law.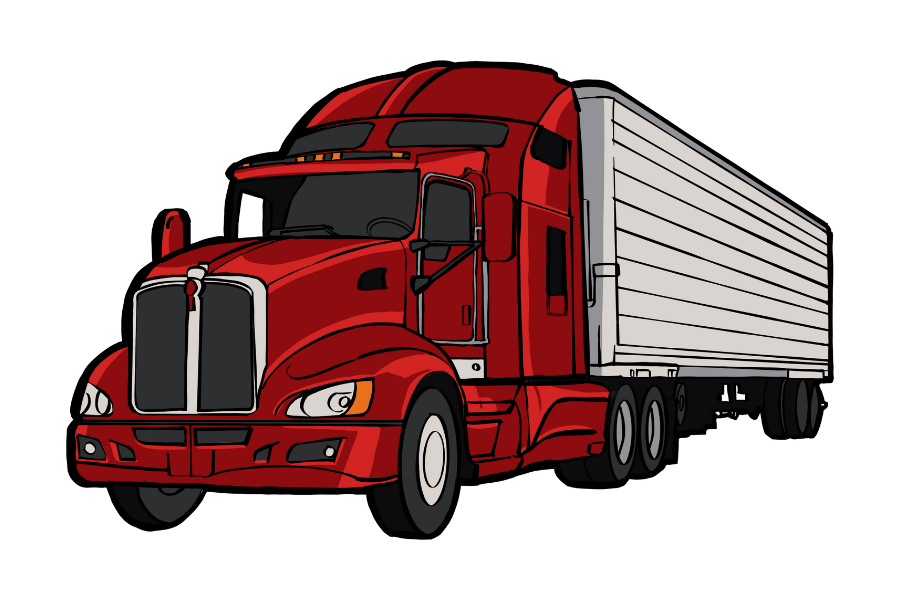 ELDT B to A for $25 Upgrade
Designed for individuals upgrading from a CDL-B to a CDL-A, this FMCSA-compliant ELDT program meets all theory requirements as per federal regulation 49 CFR Part 380. Offered by an approved training provider on the FMCSA's TPR, the course covers Basic Operation, Safe Procedures, Advanced Practices, Vehicle Systems, and Non-Driving Activities to fully prepare you for CDL-A qualification.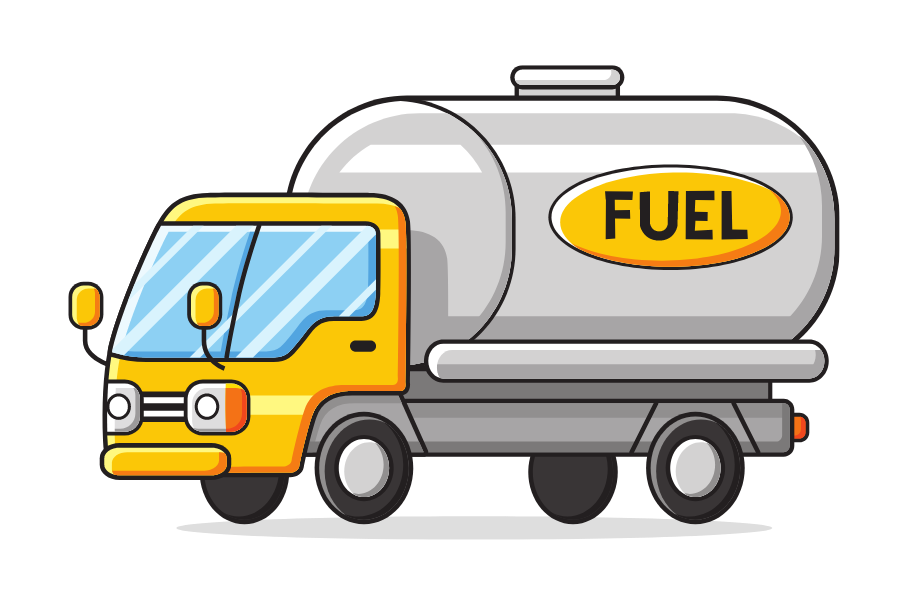 Hazmat Endorsement for $50
Designed for aspiring CMV operators, our ELDT HazMat Endorsement Theory is a must-complete course for those seeking a Hazardous Materials (H) endorsement. This online course readies you for the state-administered knowledge test, setting you on the path for a secure career in HazMat operations.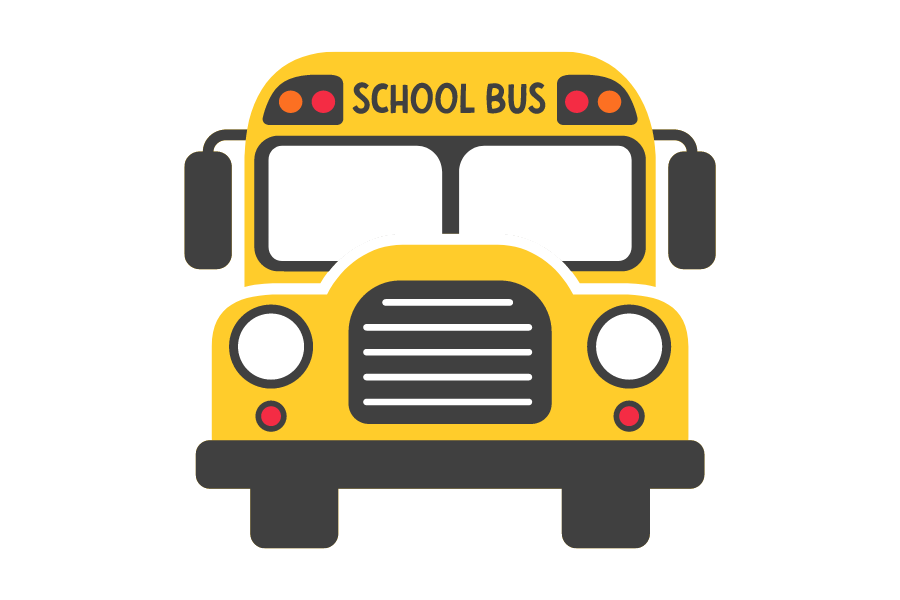 School Bus Endorsement for $50
Designed to meet FMCSA standards, our ELDT School Bus Endorsement Theory Course offers comprehensive online training for aspiring school bus drivers. Covering safety protocols to emergency procedures, this course fulfills all theory requirements for obtaining a School Bus Endorsement. Learn at your own pace and take the first step toward a responsible and rewarding driving career.
Six Major Reasons Why You Should Choose CDL Mentors of Baton Rouge Truck Driving School For Your CDL
If you are 18 to 65 years old, regardless of gender, and have a valid driver's license, this is for you!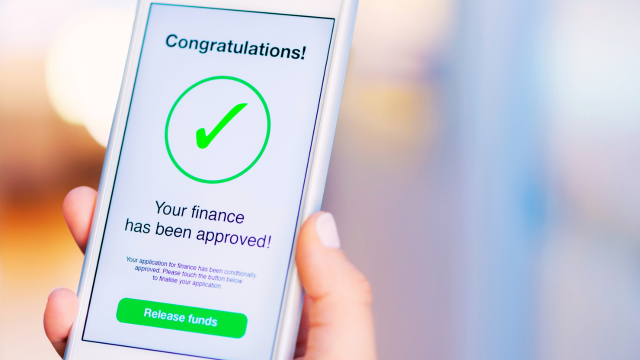 Financing
At CDL Mentors of Baton Rouge Truck Driving School, we provide financial assistance to qualifying individuals, covering around 80-100% of tuition costs, depending on the finance company and loan options. Additionally, we collaborate with various trucking companies, offering tuition reimbursement programs and other benefits.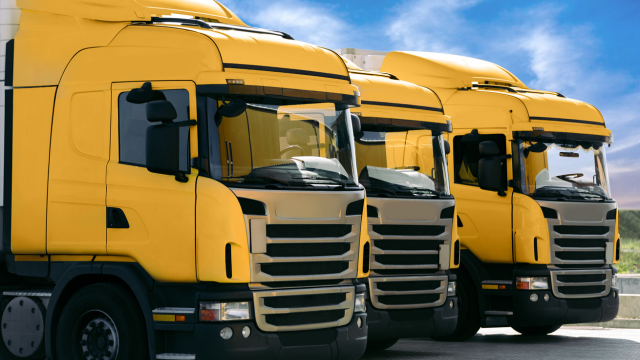 Trucking Company Visits
CDL Mentors of Baton Rouge Truck Driving School hosts regular on-site visits from trucking companies and their Driver Recruiters. These Recruiters meet with students during training, offering valuable insights about pay rates, bonuses, driving options, schedules, benefits, and more!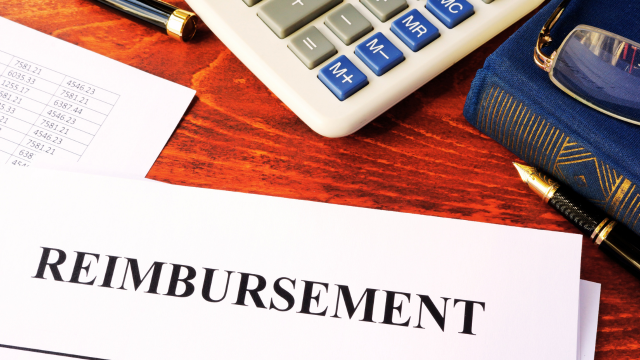 Up to 100% Tuition Reimbursement!
If qualified for training, you may receive around 80-100% tuition reimbursement for your tuition dependent on which company you chose to work with after graduation. This means on top of your regular paycheck, a separate check between $100 – $250 per month will be sent to your lender to help with your tuition.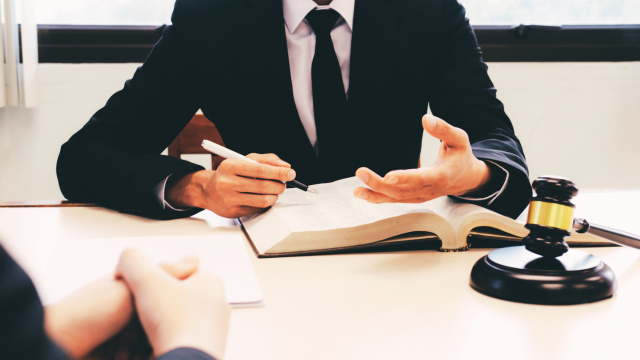 Career Services Available
CDL Mentors of Baton Rouge Truck Driving School offers free Job Placement Assistance through Career Services. Our friendly industry experts guide graduates through the application process, providing choices of top-name carriers to apply to, as long as the school is in operation.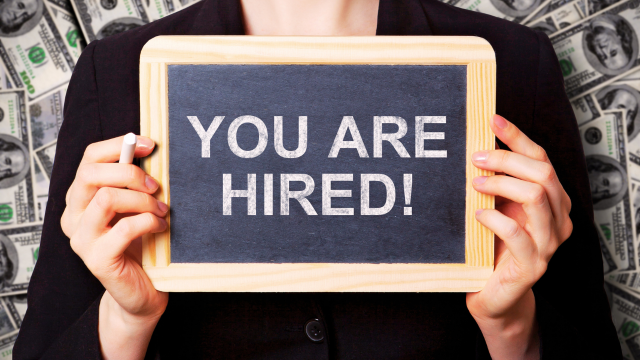 Get Pre-Hired During Training
Training Recruiters from top trucking carriers will visit the school and present what career packages they have to offer.
Each carrier is a little different and offers different advantages depending on your needs. That is what makes private "Pick Your Employer" CDL training so attractive!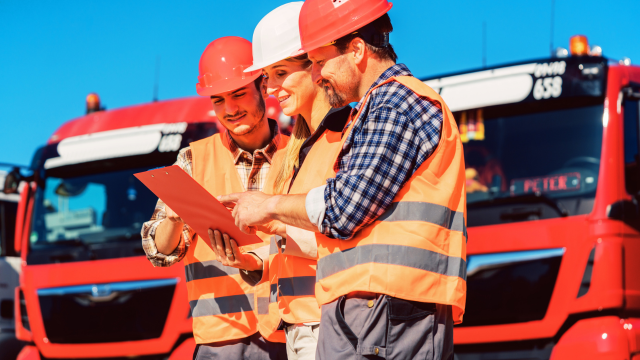 Top Carriers Looking to Hire You
CDL Mentors of Baton Rouge Truck Driving School partners with top trucking carriers like Werner, Covenant, Stevens, and more. Our graduates are highly sought-after, with some securing job offers from these prestigious companies while still in school!
CDL Mentors of Baton Rouge Truck Driving School: Your Gateway to a Successful Trucking Career!
Are you ready to embark on an exciting journey towards becoming a professional truck driver? Look no further than CDL Mentors of Baton Rouge Truck Driving School! With nationwide locations and a commitment to excellence, our rigorous training and safety guidelines are designed to equip you with the skills and knowledge needed to excel in the trucking industry.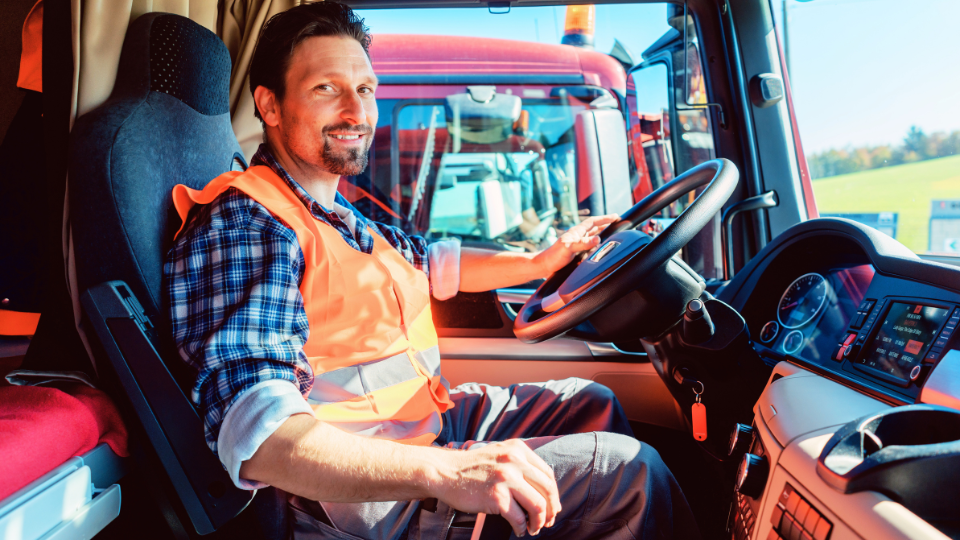 Comprehensive Training Program
At CDL Mentors of Baton Rouge Truck Driving School, we leave no stone unturned in preparing you for your CDL. Our 160-hour training program is divided into two key phases, ensuring you receive comprehensive instruction both in the classroom and behind the wheel.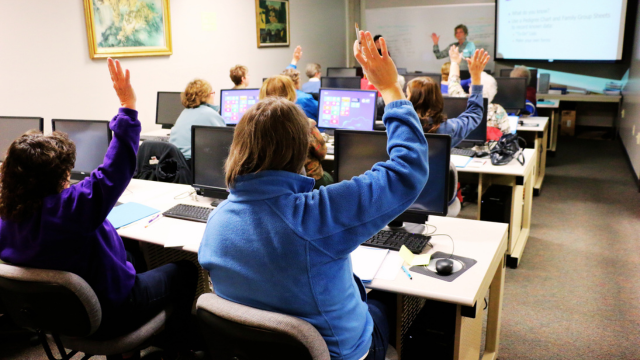 Classroom Training
During the initial phase, you'll dive deep into essential topics in our well-equipped classrooms. Here's a glimpse of what you'll cover:
Z Pre-trip Truck Familiarization: Master the critical inspection process to ensure vehicle safety and compliance.
Z Basic Vehicle Controls and Safety: Learn essential maneuvers and safety protocols for optimal control on the road.
Z Hazard Awareness & Accident Procedures: Equip yourself with the skills to handle various driving emergencies with confidence.
Z Hours of Service, Logging & Trip Planning: Understand the regulations and planning necessary for efficient long-haul journeys.
And much more! We leave no aspect of trucking unexplored, setting you up for success on the road.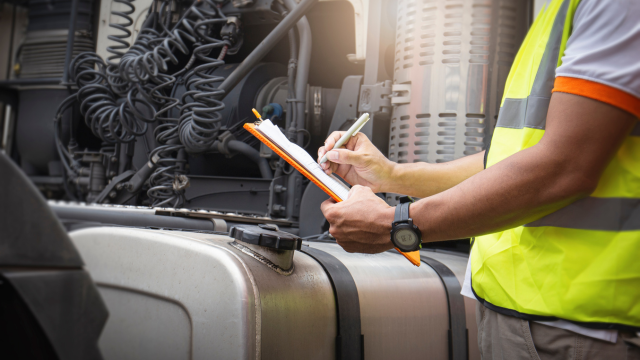 Driving Training
Once you've honed your knowledge in the classroom, it's time to put theory into practice! Get hands-on experience in the cab of a semi-truck and perfect the following skills:
Z Visual Pre-Trip Inspection: Develop a keen eye for identifying potential vehicle issues before hitting the road.
Z Trailer Backing Skills: Master the art of backing up a trailer, enabling you to navigate tight spots with ease.
Z Real-World Driving: Gain experience driving in various conditions, preparing you for any challenges you may encounter.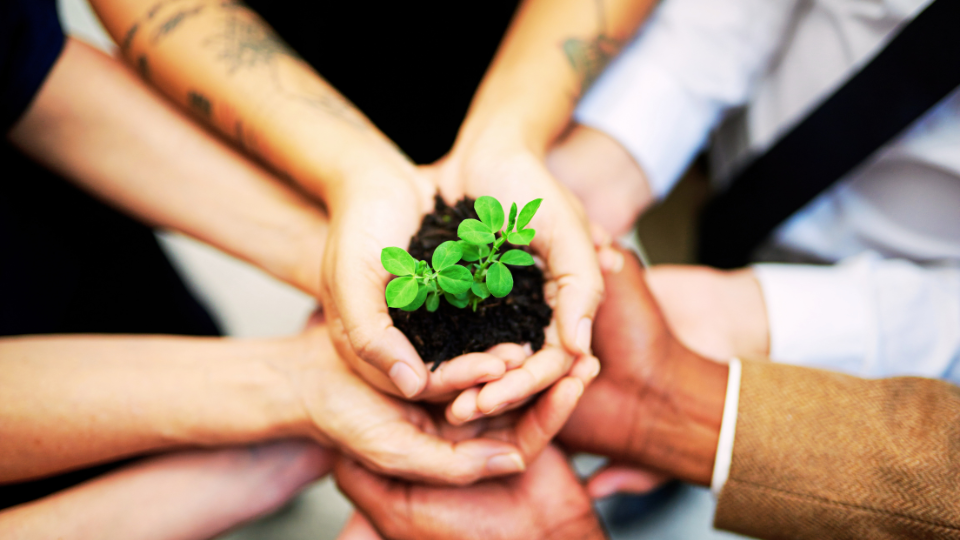 Continued Support
At CDL Mentors of Baton Rouge Truck Driving School, our commitment to your success doesn't end with graduation. We understand that learning is a lifelong journey, especially in the ever-evolving trucking industry. After receiving your Class A CDL license, the employer you choose to work with will likely provide additional advanced training. Furthermore, you'll be paired with a seasoned driver trainer, ensuring you have the guidance and support needed to confidently transition into solo driving.
With CDL Mentors of Baton Rouge Truck Driving School, your dream of becoming a professional truck driver is within reach. Don't miss this opportunity to kickstart your career on the right track! Enroll today and unleash your potential behind the wheel. Let's drive your success together!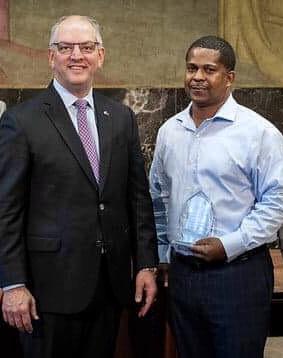 L-R: Gov. John Bel Edwards Honored Herman Marigny III, Owner of CDL Mentors Truck Driving School for being selected by Cheniere Energy Inc to receive The Louisiana Economic Development Award as a Protégé in the Mentors Protégé Recognition Program
Herman Marigny III: Empowering Excellence at CDL Mentors Truck Driving School
"We Mentor You For Greatness"
Herman Marigny III, an entrepreneurial visionary, spearheads the triumph of CDL Mentors Truck Driving School. As Founder and CEO, he blends ingenious strategies with a commitment to securing business financing, propelling CDL Mentors to paramount achievement.
Under his leadership, CDL Mentors excels in operational finesse, brand expansion, and financial prowess. Herman Marigny III's fervor for financial liberation and mastery in accessing business credit revitalizes struggling enterprises into victories.
His autocratic guidance led CDL Mentors to clinch the prestigious 2020 United States Small Business Administration and Emerging Award. With locations in Baton Rouge, Lake Charles, New Orleans, and Florida, CDL Mentors stands as a symbol of empowerment and innovation, molding aspiring truck drivers for excellence.
Herman Marigny III's influence extends to his book "How To Obtain Free CDL Training from the U.S. Government," solidifying his commitment to empowering aspiring drivers with avenues of growth.
Truck Driver Career Benefits: Your Road to Success
Embarking on a career as a Truck Driver offers a host of valuable benefits that pave the way for a fulfilling and secure future:
Competitive Starting Pay: Start your journey with an average annual salary of up to $45,000 in your first year.* Experience financial stability with weekly earnings of up to $850 or bi-weekly earnings of $1700 as a Class A CDL Licensed Truck Driver.
Job Security: Truck Driver jobs are immune to outsourcing. The indispensable role of Truck Drivers in distributing goods across the nation ensures ongoing demand. With an estimated shortage of around 48,000 Truck Drivers according to the ATA, opportunities abound, and this demand is projected to rise over the coming years.
Comprehensive Insurance: Benefit from medical, dental, and life insurance coverage, ensuring your health and well-being as you navigate the open road.
401k Retirement Savings Plan: Secure your financial future by contributing to a retirement plan while you traverse the highways. With a 401k, you'll build a nest egg that supports your retirement dreams.
Paid Vacation and Sick Time: Even the most dedicated professionals need time to relax and recuperate. Enjoy the luxury of paid vacation and sick time, ensuring you can take breaks and maintain your well-being.
Travel Companionship: If leaving your furry friend behind isn't an option, fret not. Certain carriers embrace the bond between Truck Drivers and their pets, allowing you to bring your four-legged companion along for the ride.
Embark on a rewarding journey as a Truck Driver, where financial stability, job security, comprehensive benefits, and the freedom of the open road await. Your drive for success is met with the incredible advantages of a Truck Driver career.
SEE WHAT OTHERS HAVE TO SAY ABOUT CDL MENTORS

AND HOW THEY ACHIEVED THEIR DREAMS THROUGH IT…